Our Links

The Automotive Service Association (ASA) is the largest not-for-profit trade association of it's kind serving more than 12,000 businesses and approximately 55,000 professionals from all segments of the automotive service industry.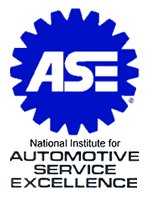 The National Institute for Automotive Service Excellence (ASE) is an organization that certifies automotive technicians. There are currently nine areas of certification for mechanical repair technicians. A technician that has passed one or more of these tests not only has proven their knowledge and expertise in the areas in which they are certified, they have also shown their willingness to provide the motoring public with a means to find knowledgeable repair technicians.
Kelley Blue Book This is a source for checking the average value of a used vehicle.
CarParts.com This is a great place to locate those hard to find car enhancements.
Computer Hardware Spyder This is a link to our general day to day computer technician's web page.